Here you can buy our current CD, T-Shirts, Car Stickers and more using your Paypal account. If you do not have a Paypal account and wish to pay by bank transfer, please contact us via email and we will provide you with the necessary details.  lincolnsadelaide@gmail.com 
---
NOTE: Australia Post has increased the prices for overseas shipping quite dramatically due to COVID, so we have been forced to up the price accordingly. Our apologies, but it is out of our control.
---
It's finally here…. Do You Remember… well we hardly do, but it's just arrived and it's hot off the press. Our latest offering not only has some brand new originals and some new classic covers, but we also re-recorded some of our favourite tracks from our very first release, Two Parts Whiskey. The results speak for themselves, but if you don't buy it… you'll never know… so why are you still reading this when the buy it now button is just below… stop reading and buy buy buy!!! 
At this stage it's a limited print due to the unbelievable (and I mean truly unbelievable) response we have had to this album on Spotify, iTunes and other digital media outlets, so if you want a hard copy, now's your chance
Of course we will have them at upcoming shows while stocks last, so come and see your friendly neighbourhood Lincoln to secure your copy.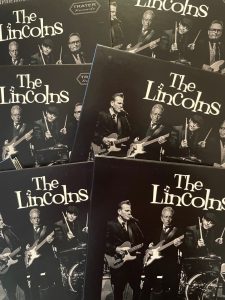 Australia Only: Priced @ $25.00 includes P&P of $5.00
International: Priced @ $35.00 includes P&P of $15.00
FINLAND / EUROPEAN CUSTOMERS can buy from Jungle Records
---
Our very first Vinyl release…. Two Parts Whiskey! Four of our favourite originals from our very first cd have been re-recorded in 2019 specifically to be put on vinyl. The end result is a far superior sound to the original recordings and one we are pretty proud of. Around one hundred copies left for Australian distribution only. Overseas buyers contact Trater Records UK. $23.50 includes "Signature on delivery postage". 
---
Nothing says Australia more than a Stubby Holder. Get your Lincolns Stubby Holder here for just $14.50 delivered within Australia, or $18.50 delivered anywhere overseas. Please select the right option when ordering below:
Crikey… I live in Australia, so you'd better rush me my Stubby Holder now before my beer goes warm. I'm as dry as a Dead Dingo's Donger and $14.50 delivered is a bloody bargain!  
I don't live in Australia, and I don't know what you are trying to sell me, but they look cool, so please rush me one anyway for $18.50, which includes delivery.  
---
The Rocker Returns!
Back due to popular demand, the original Teddy Boy Rocker T-Shirt is back on the rack. Available in Mens and Ladies from S – XL. Summer is coming… be cool.
Get yours at Redbubble until we restock –
https://www.redbubble.com/people/lincolnlee/works/13919252-the-lincolns-merchandise?p=t-shirt
---
CD's
Introducing the fourth release for the Teddy Boys from Adelaide… containing 16 great tracks featuring 8 brand new originals and 8 of their favourite rockin' covers. The CD release immediately grabbed number 1 position on the UK rock n roll charts. New stock now available for delivery due to popular demand!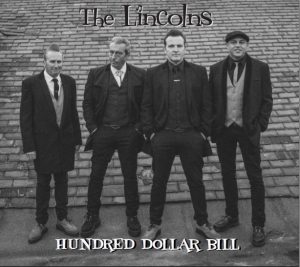 Hard copies:
Australia Only: Priced @ $25.00 includes P&P of $5.00
International: Priced @ $35.00 includes P&P of $15.00
Or
Digital copies available for download here – CD Baby
---
Teddy Boy Rock n Roll:
Second CD. Released June 2015. Reached Number 2 on the UK Rock n Roll Charts. Contains 14 Tracks… 8 originals, 6 covers. 
Australia Only: Priced @ $25.00 includes P&P of $5.00
International customers please purchase here – Raucous Records
---
Two Parts Whiskey.
First Cd released in July 2013. Contains 14 Tracks… 8 originals, 6 covers (including 2 acoustic tracks). No longer in print, but can be downloaded via link below –
Download from CD Baby here – CD Baby
  Car Sticker
Lincolns Car Sticker – Teddy Boy Rock n Roll (160 x 75mm UV Stabilized). $2.50 includes P&P Australia Wide