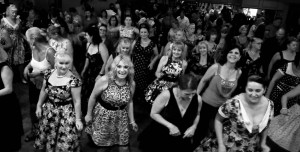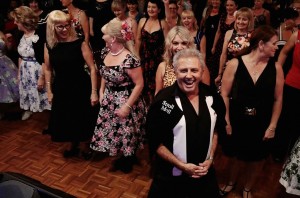 Click the pic to make it larger
In mid 2013 during one of our shows at The Monkey House the term "Stroll Molls" (moles) was given to that group of lovely ladies that swing and sway across the dance floor to their favourite strolling songs in sultry, rhythmic unison. What started as a joke has now been fully embraced by this gorgeous bunch of gals, and as such, it's become very popular to be a Moll here in SA. They now wear Badges, T-shirts, and Cardigans, to proudly state their Moll status.
It's become so big that we decided to write them their very own song. We played it publicly for the first time to a sell out crowd on the 31st Jan this year (2015), and the floor was full of very happy strolling molls. Our great friend and DJ, The Midnight Rocker, kindly filmed the gals in full flight on the night and gave us the above screen shot. Ooh yeah!
We're proud to have the molls as our friends and we love them all dearly.
So here's your song Moll's:
There's a sea of lovely ladies swinging side to side
Catching my attention got me mesmerised
Sweet like cotton candy right before my eyes…
Watching all them strolling molls
Gliding cross the floor they're moving left to right
Got me in a spin my head is feeling light
Ooh I wanna take em with me home tonight…
Watching all them strolling molls
Not letting up and not letting down
Them stroll molls overtaking every joint in town
Don't ever be doing them no wrong
Coz them stroll molls got it going on
Them Moll's have got me shaking in a cold cold sweat
I'm yearning and burning for their step by step
I can't sleep at night because I can't forget…
Watching all them strolling molls
Not letting up and not letting down
Them stroll molls overtaking every joint in town
Don't ever be doing them no wrong
Coz them stroll molls got it going on
(Don't judge the English… it's all about phrasing and a bit of artistic license OK! lol)