Yep… July is here, but what does this mean for you?
Well it means a few things. Firstly it means that on the 8th we will be playing alongside our great mates The Fender Benders. All the way from sunny Victoria for one night only at The Castle Entertainment Centre. Tickets are $30 per head and you are guaranteed a night of great music and dancing. Tickets are still available at the door, so why not get along and bop your little socks off.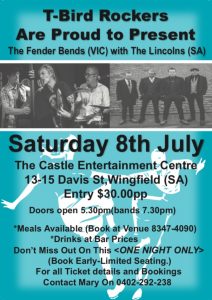 Secondly… it means that we will have our new CD's available. We are expecting delivery for the first 1000 copies and they should be on sale by around the 12th July. Those traveling to Horsham will be able to purchase them direct from us at the gig as that will be our first show after we take delivery. The new CD is titled Hundred Dollar Bill and has the familiar 16 tracks… 8 Originals, and 8 Covers. We are quite excited about this release and we hope you guys will be too. This CD is $20 per copy and we can arrange P&P for $6.50 anywhere in Australia, and $12.00 anywhere in the world. Check our page soon for purchase details.
Thirdly… Jive in July is going ahead on July 29th with two of the best bands you will get to see in Adelaide this year. The ReChords are here playing their unique brand of original Americana and Rockabilly, and they will have their new vinyl available with them. A Band Called Twang are coming down from QLD to knock all of our socks off with their amazing talent and superb vocals. They should also have their new CD available. The Dom Polski will be pumping all night long. We're kicking off proceedings from around 7:30pm and tickets are $30 each pre-sold only.
We will have a food van and a coffee van at the front of the building, and for your retail therapy needs we will have Bop Jonnys, Hot Rock Gear and the Alikat stand will be there with clocks, dog tags, key rings, bottle openers… all of which can be engraved to a design of your choice… on the spot!
Yes indeed… this will be a great month. Thanks for being a friend of The Lincolns and we hope to see you soon. At the very least we will be sharing some very exciting news with you all shortly.
Don't forget to check our Facebook page for up to the minute information.